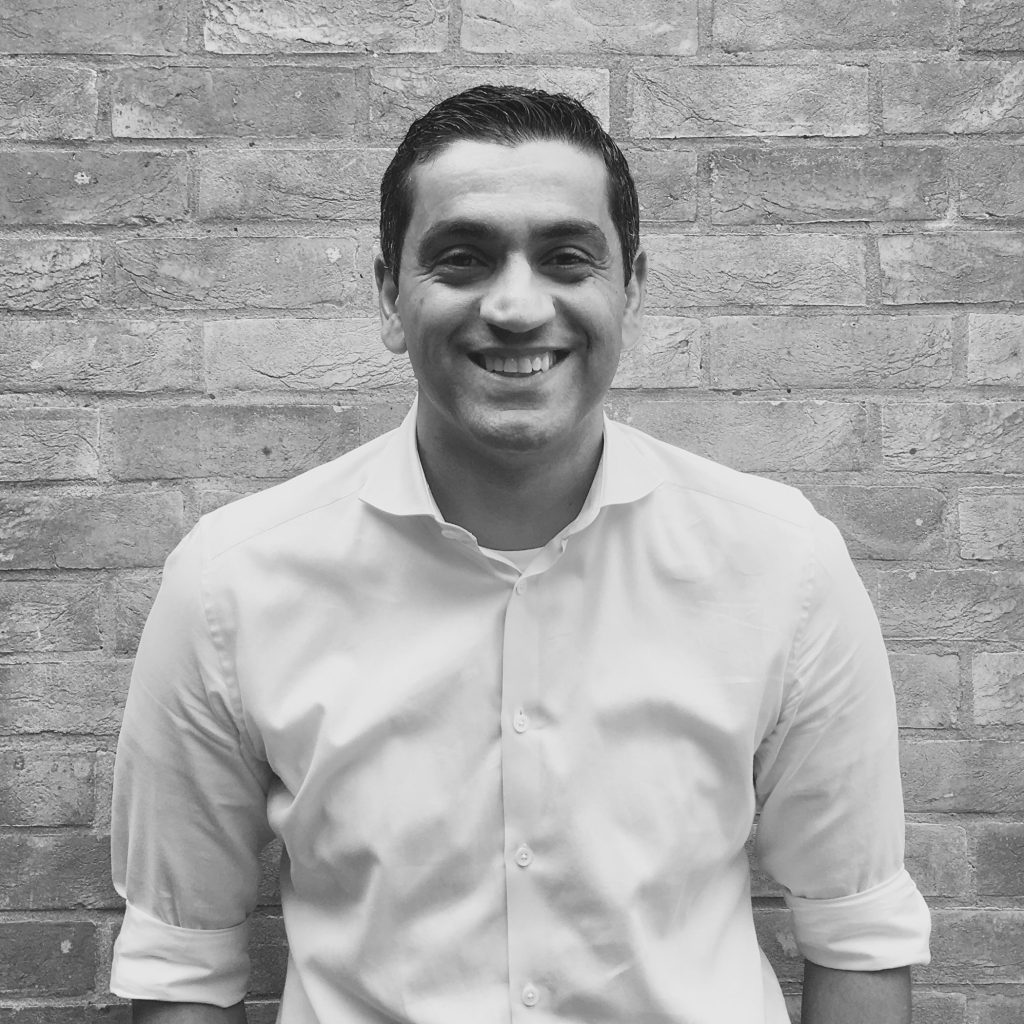 Dr. Pedram is actively involved in Implant education. Over the years he has undertaken extensive training to become proficient in surgical procedures for all implant related oral surgery techniques, including Sinus Lift, guided bone regeneration and full mouth rehabilitations with fixed prosthesis. This allows him to restore the most complex cases, achieving predictable outcomes with the highest aesthetics.
Pedram is a current tutor, lecturer of the FGDP Diploma in Implant Dentistry at the Royal College of Surgeons of England. He is a member of the BDA (British Dental Association) and ITI (International Team for Implantology) and The Royal College of Surgeons of England and has a diploma degree in implant dentistry considered as gold standard in dental implantology.
Single tooth replacement
Replacing a missing or failing single tooth with an implant has great benefits over the alternative options of a bridge or denture.

Multiple tooth replacement
Two or more teeth are replaced with single implants, or by joining two or more implants together. If all the teeth in the jaw are missing and sufficient implants can be placed into the jaw, full replacement of teeth can be achieved. In most situations the provision of a sufficient number of implants allows for fixed bridgework. However, a minimum of six implants is required and in some situations more are required if there is reduced volume and quality of bone.



Implant retained dentures
Dentures can be held securely in place with implants.
Denture wearers who have loose and painful dentures may especially benefit from implant-supported dentures. Two implants in the lower jaw and four in the upper secure a denture replacing all the teeth.
The denture is attached, via locator attachments, to the implants and held firmly in place allowing the patient to eat with confidence, smile and laugh again.
This also allows the upper denture to be kept relatively small and not extend too far back over the palate.




Bone Augmentation
There are various types of bone augmentation that may be required in different situations. Not everyone needs this as part of his or her treatment, but where there is a lack of bone Pedram is well trained for this type of procedure.
Guided Bone Augmentation
This is carried out at the time of implant placement. Bone is added around the implant due to small deficiencies in the bone. This will help to maintain the look of the implant crown where it comes out of the gum.
There are various material options to use for this technique, and we have chosen our favoured materials following careful research.
Sinus Augmentation
A key to implant success is the quantity and quality of the bone where the implant is to be placed. The upper back jaw has traditionally been one of the most difficult areas to successfully place dental implants due to insufficient bone quantity and quality and the close proximity to the sinus. Sinus augmentation can help correct this problem by raising the sinus floor and developing bone for the placement of dental implants.
Sinus augmentation has been shown to greatly increase the chances for successful implants if there is insufficient bone and minimal height.
Ridge Modification
Deformities in the upper or lower jaw can result in inadequate bone in which to place dental implants. This defect may have been caused by periodontal disease, wearing dentures, developmental defects, injury or trauma. Not only does this deformity cause problems in placing the implant, it can also cause an unattractive indentation in the jaw line near the missing teeth that may be difficult to clean and maintain.
To correct the problem, the gum is lifted away from the ridge to expose the bony defect. The defect is then filled with bone or bone substitute to build up the ridge.
Finally, the incision is closed and healing is allowed to take place. Depending on individual needs, the bone usually will be allowed to develop for about 2 to 6 months before implants can be placed. In some cases, the implant can be placed at the same time the ridge is modified.
Ridge modification has been shown to greatly improve appearance and increase chances for successful implants. Ridge modification enhances restorative success both esthetically and functionally.
Block Grafts
When a lot of bone has been lost from the front part of the upper jaw, it is occasionally necessary to build this back using a block of bone from the patient. This bone is usually taken from the back of the lower jaw though sometimes it may instead be taken from the chin. This block of bone is securely attached to the deficient ridge using tiny titanium bone-screws and will allow dental implants to be placed once the block graft has healed.
Sedation Services
Although the treatment offered is pain free, sedation is available for more difficult cases or overly anxious patients.
Details of the implant systems that we offer
We are skilled in the use of all established implant systems including Straumann and Ankylos and will use whichever system is most appropriate for each individual patient.
| FEE GUIDE | From |
| --- | --- |
| Diagnostics | |
| Dental Implant Consultation incl. radiographs (if required) | £100.00 |
| CT Scan per Jaw | £120.00 |
| Study Models, Surgical Stent and Wax-Up | £200.00 |
| Dental Implant Costs | |
| Dental Implant incl. healing abutment | £1,500.00 |
| Dental Implant incl. final abutment and final crown | £2,500.00 |
| Implant Supported Denture: | |
| 2 Implants incl. Attachments and Over-denture | £4,000.00 |
| 4 Implants incl. Attachments and Over-denture | £6,000.00 |
| Implant Supported Fixed Restoration: | |
| 4-5 Implants incl. fixed Construction (Lower Jaw) | £16,000.00 |
| 6-8 Implants incl. fixed Construction (Upper Jaw) | £18,000.00 |
| Advanced Procedures (if required) | |
| Xenograft Bone Augmentation (GBR) | £450.00 |
| Resorbable Bio Membrane use only | £150.00 |
| Autologous Bone Augmentation (Chin or Ramus) | £1,000.00 |
| Allograft Bone (Human Donor) | £1,200.00 |
| Sinus Manipulation incl. Bone Substitute | £1,000.00 |
Where appropriate we offer advanced procedures including GBR, bone augmentation, sinus lift and other techniques. Due to individual variation in these procedures and estimate of cost is only possible after careful examination and studying of radiographs. Fees may be varied if many implants are planned.
Dental Implants
If you have had the unfortunate experience of losing a tooth, whether it is down to an accident or natural causes, an implantis one of the most securest and long-term solutions available for a missing tooth on today's dental market.Dental implants are well established as being a great alternative for replacing missing teeth and securing dentures firmly in place. Acting as the root replacement for your tooth a dental implant is able to prevent the side effects of missing teeth such as sunken cheeks and bone loss, which can often make people appear, aged.
Dental implants are titanium screws that will replace the missing tooth's root and will integrate with your jawbone to promote stability and healthy bone growth (as missing teeth will lead to bone degeneration and gum recession).


The implant will act as a secure base for a crown to be securely attached and the new tooth will function and look likes your natural teeth!


Multiple Dental Implants
We can use multiple dental implants to replace your natural teeth. When you lose multiple teeth it has a negative effect on your remaining teeth and overall oral health.


The gaps where your teeth used to be will start to experience the degeneration of your jawbone and the gums will also start to recede, which will in turn, cause the remaining surrounding teeth to loosen up and potentially fall out in the future. You will start to see over time that the surrounding remaining teeth can also drift, push and rotate out of their normal position, which can lead to further dental complications:Crooked teethIncreased chance of gum disease (higher chance of further tooth loss), Harder to maintain and clean your teeth, Temporomandibular joint disorder (TMJ), which causes severe pain and discomfort in the back of the neck/head.

How many implants will I need?
This will vary from case to case and will depend on how many teeth you have lost, and the locations of those missing teeth. Patients with adjoined gaps of missing teeth could be suitable candidates to have an implant retained bridge, which requires less implants to replace a number of teeth (not all adjoined gaps will be suitable though).
After the consultation we will be able to discuss your suitable implant treatment, which could include: Over-dentures, Dental Bridges, Porcelain Crowns, Ankylos Smartfix.
Fixed implant-supported bridges
These custom made bridges can be adapted to nearly every situation; usually 6-8 implants will be needed in each jaw to support this bridge. As a result not all patients are suitable, however they still represent the gold standard in tooth replacement and offer the patient the most natural life-like feel to their replacement teeth. This is the most expensive option but really is the gold standard in the replacement of a full arch of teeth if you have adequate bone density and gum health.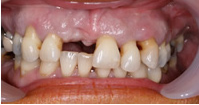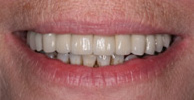 Over-dentures
Implant retained dentures with Ankylos SynCone System
Over-dentures are attached and supported by dental implants. Between 4 (lower jaw) to 6 (upper jaw) dental implants are placed in the jaw, which have tapered posts fitted to them. These tapered posts that are attached to the implants lock tightly into place with a coping (cap) that is fabricated into the base of the denture. This tight connection between the post and the cap help to support and secure the denture for use on the same day.
Unlike traditional implant-retained dentures the SynCone technique allows the dentures to be held in place by the implants on the same day as surgery rather than waiting 3-6 months for the implants to integrate. SynCone dentures also have less of a tendency to cause gum and bone shrinkage than traditional implant-retained dentures.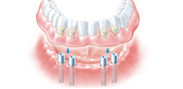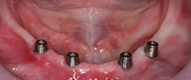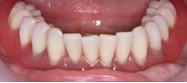 Why would you need Over-dentures?
If you have lost most or all of your teeth, Extensive bone loss, Support for your existing dentures, Improve speech and ability to eat, Re-build confidence.
Benefits of Over-dentures
Over-dentures are best suited for patients:Wishing to have the benefits of dental implants, without the need for bone grafting, Wanting a dental solution for lower costs, Who want a secure denture that will not affect eating and chewing,Over-dentures also prevent further bone loss, as dental implants supports the surrounding bone structure (compared to conventional dentures).

How long does the Over-denture treatment take?
The Over-denture treatment will vary from patient to patient (discussed during initial consultation) but can be completed in as little as 3-4 months.

What will the procedure involve?
After the initial consultation to identify which treatment will suit you, the Over-denture procedure will involve:
Initial Diagnostic Stage
Radiographs, Study models and diagnostic template, A CT scan may be taken to help diagnose and visualize the jaws 3 dimensionally ensuring there is enough bone for the dental implants, also establishing where your sinuses and nerves are (to avoid during procedure).
Stabilization
Necessary treatment required shall be completed before the implants are placed; this includes Oral Hygiene maintenance, possible gum treatment, and replacement of failing restorations, removal of teeth with poor prognosis
Implant Placement
The implants will be placed into the jawbone based on the assessment of the x-rays and CT scans. Implants can be placed under local anesthetic or intravenous sedation. This will be decided prior to starting the treatment by consultation. Before the next visit can take place, the implants will need to heal up and integrate with the jawbone. This process normally takes 3-6 months. During this time temporary dentures can be worn.
Restoration
After 2-3 months we will start restoring the implants. A healing collar is then placed onto the implants (under local anesthetic) to form the connection between dental implants and over-dentures. The newly created over-dentures will be fitted.
"Teeth In One Day"
Permanent Teeth In A Day
Same day teeth and same day smiles are both terms that have been used to describe this exciting dental implants treatment that allows you to have a new and beautiful smile in just one day!
Am I Suitable For Same-Day Teeth?
You may be suitable for this treatment if you have loose and uncomfortable dentures affecting the quality of your life, have severe tooth loss, have loose teeth requiring extracting and restorations that are failing.
What Is The Same Day Teeth Treatment Process?
Preparation Stage
The first stage will include impressions and radiographs taken of your mouth, which will be used to create an exact replica of your jaw. We will then create a removable denture with the intended teeth setup. A CT scan may be required which will help us identify if there is enough bone for successful dental implants placement.
Implant Placement With Restoration
On the day of the surgery implants will be placed under local anesthetic or IV sedation, if requested. After implant placement there will be a three-month healing period where the implants will integrate with the jawbone before the final restoration is fitted. With same day smiles we will safely fit the final prosthesis (restoration) to the implants so you will have beautiful teeth in just one day!
Same Day Smiles Aftercare
The aftercare of the treatment is a very important stage. It is important that you attend a check up/assessment to ensure that your new teeth and implants are taking well to their new setting and if there are any minor modifications that need to be made (to accommodate any healing changes in your mouth). The exact time frame of your checkup appointment will vary and we will advise you when we need to see you again.
SmartFix™ Concept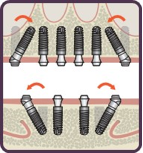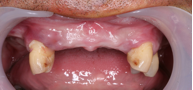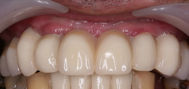 What Are SmartFix™ Dental Implants?
AnkylosSmartFix™ Conceptis a dental implant system from DENTSPLY.
This is a new revolutionary system that provides a prosthetic solution on tilted dental implants, a technique, which is where a fixed bridge or denture components are fitted onto 4-6 dental implants in one day and are not removable by the patient. This is sometimes known as "fixed teeth in a day".
Normally, in order to replace all missing teeth in the upper or lower jaw a patient is required to have 6 – 10 dental implants. With this system two implants at the back of the jaw are placed at an angle of 30 degrees enabling longer implants to be placed in this area for greater stability. These 6 implants are then braced together by a fixed bridge, which is screwed into the implants and held permanently in place. Unlike an implant-retained denture the "SmartFix™" denture can only be removed by a dentist and so is as close to having your natural teeth, as you will get.
You can arrive in the morning and leave in the afternoon with a permanent set of new teeth. During your consultation we will discuss the pros and cons of your treatment options so that you can make an informed decision of the treatment that is best suited for your individual situation.
Why would I need Smart Fix?
If you have missing teeth or your denture is starting to fail, then the Ankylos SmartFix™system could be the ideal dental implantstreatment for you.
What are the benefits of Ankylos Smart Fix?
With the SmartFix™ dental implant system you will receive the following benefits:
Avoiding critical anatomical areas: Tilted implants can largely avoid critical anatomical areas and for example, could avoid the need for sinus floor elevation.
Stable prosthetic fit: The area supporting the prosthesis covers a larger area than normal implants will because of the angle caused by the tilted implants, which ensures that the local bone is thus utilized optimally.
Delicate abutment head: The abutment head allows optimum freedom in terms of height and diameter. Secure handling: Each abutment will already be premounted onto a seating instrument that offers incredible flexibility, especially when there is restricted space. Positioning: There is free 360 degree positioning have the implant and balance base abutments. Sub-crestal placement: This will largely avoid any inflammatory response to the peri-implant tissue (important for implant survival.
Ankylos SmartFix™ Process
Diagnostics
Study models and radiographs will be made of the patients jaw. A template of the jaw will be constructed for the CT scan (if required). CT scan will be taken to help the dentist plan the dental implant surgery (if necessary). CT scan will show bone quality, anatomic important structures etc.
Implant Placement
The patient will be administered intravenous (IV) sedation or local anesthetic and the implants will be placed with the assistance of a template or the CT scan results as an even more accurate guide.
Provisional Restoration
On the day of the implant placement a full arch fixed prosthesis will be attached to the dental implants (so the patient is never without any teeth during the treatment).
Permanent Restoration
The implants will be allowed to integrate with the jawbone and heal. This process will normally take around 3-6 months. After the healing period (roughly 3 months), the final restoration is fitted. Final solutions include both fixed and removable prostheses. Fixed solutions include an implant bridge with porcelain or acrylic crowns cemented to the bridge framework, removable solutions include Overdentures on an implant bar attached by means of an attachment system.
FAQs
Q. Can you give me some more information regarding Smartfix?
A. Smartfix is the name for a technique where 4-6 implants are used to hold a full jaw of fixed teeth. It can be used in either upper or lower jaws or both.
Q. Are the teeth removable?
A. No the teeth are screwed in place, they can be removed by the dentist for repair or maintenance.
Q. Do I need to be without teeth for any length of time?
A. No. The technique is often described as teeth in a day. We normally do the surgery in the morning and fit the new teeth in the afternoon with 2 quick appointments in the middle.
Q. Are these the final permanent teeth?
A. No these are provisional teeth fitted to allow the tissue to heal for 4-6 months. The final teeth are made when the tissues have healed. This normally takes 3 visits.
Q. I have full dentures can I still have it?
A. Yes subject to a full assessment and most importantly a CT scan to measure the bone before treatment.
Q. Does it hurt?
A. No the treatment will be provided using normal local anesthetic. Most patients are surprised by how straightforward the treatment is. For more anxious patients we can use sedation to help you relax during the treatment.
Q. I have several broken and failing teeth can I still have this treatment?
A. Yes, normally it is still possible but subject to a CT scan and assessment.
£50 initial consultations & affordable payment plans
If you are unsure that a dental implant will be the right treatment for you, we offer £50 initial consultation, so we can discuss with you your needs and explore all the options available to your case. We have 0% or low interest payment plans (subject to status) that can help break up the overall cost of treatment.